Skip to Content
Landscape Lighting in Anne Arundel County, MD
All Spark Electric provides style and function to properties through landscape lighting in Anne Arundel County, MD. Your exterior quality is as essential as your interior. Our team is trained and equipped to install, repair, and maintain outdoor lights. Whether you want to draw attention to a specific element or ensure your entire property is well-lit, we can customize and provide you with the right system. We service properties of all sizes and scopes with care and attention to detail.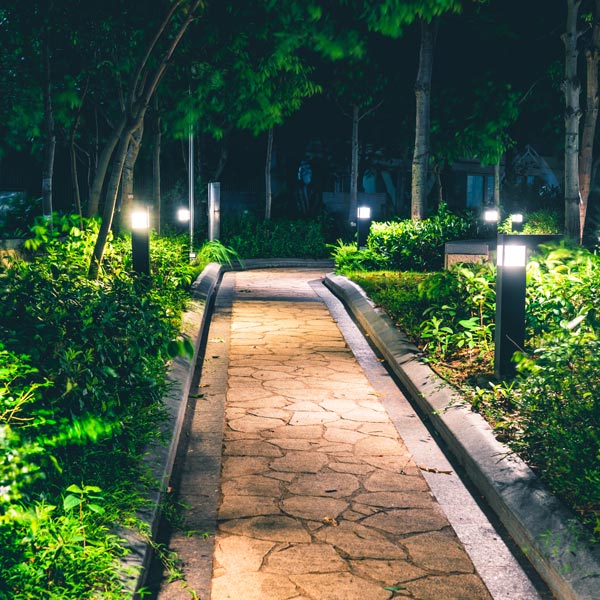 Highlight Your Beautiful Outdoor Features
Landscape lights include any lighting product, system, or feature used to illuminate outdoor spaces. They highlight any natural or manufactured elements for beauty or safety purposes. You can install them to draw attention to your landscape design and aesthetic. Walkways and step lights help you see in the dark to avoid tripping, slipping, or falling. Outdoor elements many home and business owners choose to highlight include but are not limited to:
Trees
Flowers & Plants
Walkways
Gardens
Architectural Features
Customize Your Outdoor Lighting System
Our team specializes in developing unique solutions for our clients, achieving their desired look, function, and control. By choosing us, you can expect the following:
Style & Aesthetics
Outdoor lighting creates an attractive environment by spotlighting your property's most stunning elements.
Versatility
We install a wide range of lighting styles for residential, commercial, and public properties.
Personalization
We can customize your lighting system with sensors, timers, and remote monitoring to meet your precise needs and requirements.
Optimized Spaces
You can make the most out of your outdoors by having us install energy-efficient, cost-effective lighting.
Elevating Residential & Commercial Features
Your environment has an immense impact on you and others. If you're a homeowner, you likely want a pleasant outdoor space for your family and friends to enjoy. Employees are often more productive and satisfied in comfortable surroundings, and potential customers are more likely to visit businesses with attractive appearances. Good lighting is crucial to your property's look and function. All Spark Electric is dedicated to our customers. We'll survey your property and provide an estimate. We look forward to partnering with you to make your vision a reality.
Contact Us for an Estimate Today